Nemo10-G01 : 10BaseT Embedded OEM Device Server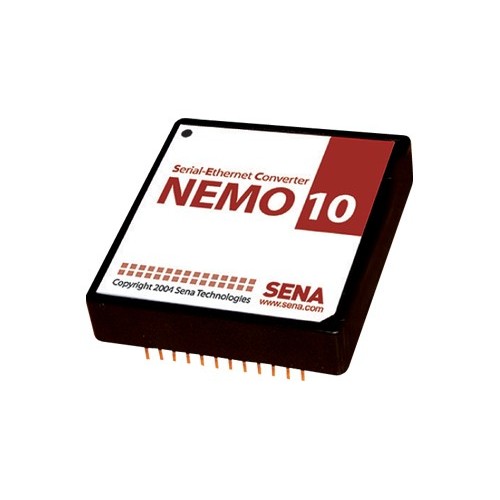 ---
---
Price:
$25.30
Ex Tax: $23.00
Nemo10
Hardware
80C51 8-bit microprocessor
32KB SRAM
64KB EEPROM
External Interface Pins
24 pin Dual In Line connector interface for
Device Interface
Built-in UART
Serial speeds 1200bps to 115Kbps
Flow Control: Hardware RTS/CTS
Signals: Rx, Tx, RTS, CTS, DTR, DSR, GND
Network Interface
10 Base-T Ethernet
Supports static and dynamic IP address
Protocols
ARP, IP/ICMP
TCP
Telnet
DHCP client
PPPoE
Security
User ID & Password
Management

Telnet
Serial console port
HelloDevice Manager

Power
Supply voltage = 5V DC 10%
Supply current = 60mA / 5V DC
Environmental
Operating temperature: 0°C to 50°C
Storage temperature: -20°C to 66°C
Humidity: 90% Non-condensing
Physical Properties
Dimension (LxWxH)
45 x 45 x 18.5 (mm)
1.8 x 1.8 x 0.7 ( in.)
Weight: 20g
Warranty
1-year Limited Warranty
Model
Description
Nemo10
Nemo 10BaseT serial device server module
Nemo10-SK
Starter Kit for Nemo10
Includes:

NEMO10 module
Demo board
External 110V or 230V power supply
Serial data cable

Nemo10 OEM Module Contains:
Nemo10-G01 : 10BaseT Embedded OEM Device Server
THIS IS A DISCONTINUED PRODUCT - ONLY 8 LEFT IN STOCK
The Nemo10 is a compact and low-cost embedded device server that is designed for OEM users who are wishing to embed Ethernet connectivity directly onto the circuit boards of equipment like security systems, POS, factory machinery, and medical devices.
The Nemo10 device server has a standard pin space with a dual-in-line, 24-pin design for onboard installation that lets you shorten the layout time and get your product to market in no time.
Single-chip DIL type Ethernet controller for onboard installation.
Compact size 45mm x 45mm x 18.5mm.
Built-in UART for device interface, data transfer rate up to 115Kbps.
Supports 10Base-T Ethernet interface.
Supports ARP, IP/ICMP, TCP, Telnet, DHCP, PPPoE
Reliable TCP/IP protocol stack.
PPPoE protocol for DSL connection to broadband network.
Configuration using Telnet or Config command via serial interface.
Management software for configuration and administration.
+5v Input, 0.3w low power consumption.
Panel Layout
- Nemo10 Panel Layout and Pin Assignment
- Nemo10-SK Panel Layout
- Installation of the Nemo10 onto the Nemo10-SK (Starter Kit)