NiM2-434.650-10 : UHF Narrow Band FM Transceiver, 434.650MHz, 10kbps, 10mW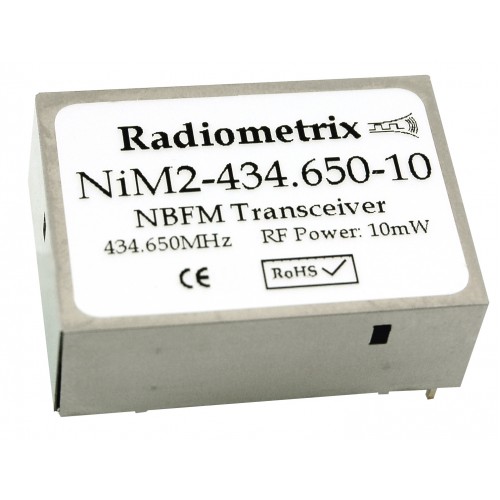 ---
---
Price:
$77.99
Ex Tax: $70.90
Technical Summary
3 stage crystal controlled VCXO
Data bit rate: 10kbps max.
Transmit power: +10dBm (10mW)
Double conversion FM superhet
SAW band pass filter, image rejection: 50dB
Data bit rate: 10kbps max.
Receiver sensitivity: -118dBm (for 12dB SINAD)
RSSI output with >60dBm range
Adjacent Channel: -70dBm
Supply: 2.9V - 15V @ 20 mA transmit, 15mA receive (internal 2.8V voltage regulator)
NiM2-434.650-10 : UHF Narrow Band FM Transceiver, 434.650MHz, 10kbps, 10mW
NiM2-434.650-10 Transceiver
VHF Narrowband FM Radio Transceiver
Frequency: 434.650MHz
Data Rate: 10kbps
TX Power: 10mW
RX Sensitivity : -118dBm
Country: AUS/NZ
Overview
The narrow band NiM2 transceiver offers a low power, reliable data link in a Radiometrix transceiver standard pin out and footprint. This makes the NiM2 ideally suited to those low power applications where existing single frequency wideband UHF modules have insufficient range.
Features
Conforms to ETSI EN 300 220-3 (radio) and EN 301 489-3 (EMC)
Standard frequency: 434.65 and 434.075MHz
Custom frequencies available in 433MHz (EU) band
Data rates up to 10kbps
Usable range over 500m
25kHz Channel spacing
Longer range compared to Wide Band FM modules
Applications
EPOS equipment,
Barcode scanners
Data loggers
Industrial telemetry and telecommand
In-building environmental monitoring and control
High-end security and fire alarms
DGPS systems
Vehicle data up/download