LS110-G01 : Single Port Serial Device Server. AU/NZ Plug Pack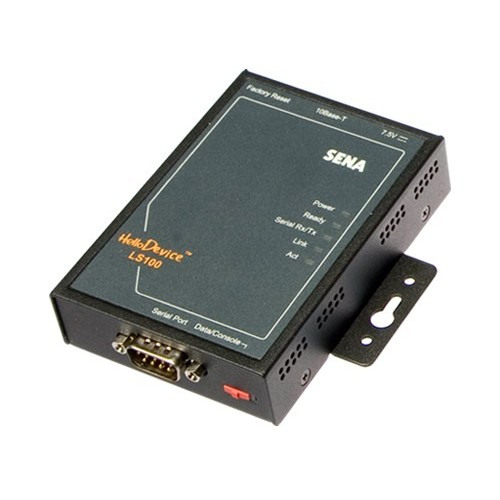 LS100
LS110
Serial Interface
Male DB9 serial port
Serial speeds: 1200bps to 115Kbps
Flow Control: Hardware RTS/CTS
Signals:

LS100
- RS232 : Rx, Tx, RTS, CTS, DTR, DSR, GND
LS110
- RS232 : Rx, Tx, RTS, CTS, DTR, DSR, GND, DCD

Network Interface
10 Base-T Ethernet with RJ45 Ethernet connector
Supports static and dynamic IP address
Protocols
ARP, IP/ICMP
TCP/IP
Telnet
DHCP client
PPPoE
ARP, IP/ICMP
TCP/IP
Telnet
DHCP client
DNS
Serial Access port protocol : Raw TCP
Serial Access port protocol : Telnet, TCP, UDP, RFC-2217
Security
User ID & Password
User ID & Password, IP Address filtering.
Management

Telnet
Serial console port
HelloDevice Manager

Firmware
-
Upgrade using console and telnet
Diagnostic LED

Ready
Link and Act for Ethernet
Serial Rx / Tx
Ready

Power
Supply voltage = 7.5V ~ 15V DC
Supply current = 300mA @ 7.5V DC
Supply voltage = 7.5V ~ 15V DC
Supply current = 300mA @ 9V DC
Environmental
Operating temperature: 0°C to 50°C
Storage temperature: -20°C to 66°C
Humidity: 90% Non-condensing
Physical Properties
Dimension (LxWxH)
100x 72 x 25 (mm)
3.94 x 2.83 x 0.98 (in.)
Weight: 240g
MTBF
39.45 Years
-
Regulatory Approvals
FCC Part 15 Subpart B, Class A
EN61000-3-2, EN61000-3-3
EN60950-1
EN55022
EN55024
MIC
Warranty
5-year Limited Warranty
Model
Description
LS100-G01
LS110-G01
HelloDevice Lite single-port serial device server
Includes:

Quick start guide
External 110V or 230V power supply
Serial data cable


Optional Accessories:

DIN-Rail mount kit


LS100B
HelloDevice Lite single-port serial device server board
HelloDevice Lite LS110-G01 Contents:
1 x LS110 Serial Device Server Single Port
1 x External 240V Plug Pack AU/NZ
1 x Quick Start Guide
LS110-G01 : Single Port Serial Device Server. AU/NZ Plug Pack
THIS IS A DISCONTINUED PRODUCT - ONLY 1 LEFT IN STOCK
The LS100 and LS110 are cost-effective wired serial device servers that connects RS-232 based serial devices to the 10-Base-T Ethernet Network. The LS110 serial device server supports advanced features such as telnet COM port control protocol support (RFC2217 compliant), and Built-in surge protection.








Connects legacy serial devices to 10Base-T Ethernet.
Supports RS232 based serial devices via DB9 serial port.
Serial data transfer rate up to 115Kbps.
Reliable TCP/IP protocol stack.
Low-price model for lowest transition cost.
Configuration via telnet or serial port.
Management software for configuration and administration.
LS110 : Surge protector included.
LS110 : Supports RFC 2217, Telnet COM Port Control Protocol.
Application Diagram: