SMX2-433-5 : UHF Narrow Band FM Multi channel Transceiver, 433MHz, 10mW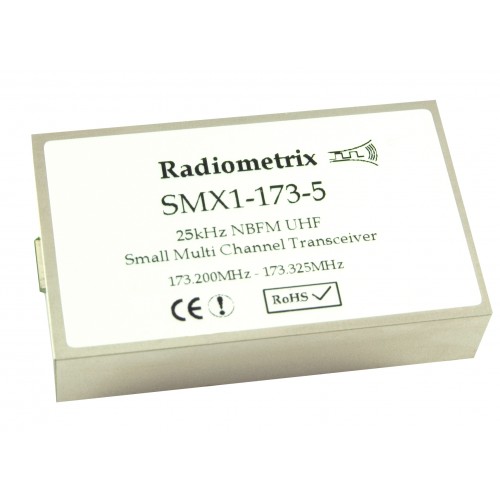 ---
---
Price:
$194.70
Ex Tax: $177.00
SMX2-433-5 : UHF Narrow Band FM Multi channel Transceiver, 433MHz, 10mW
SMX2-433-5 Multichannel Transceiver
UHF Narrowband Multichannel FM Radio Transceiver
Frequency: 433.05 - 434.79MHz
Channels: 128 via serial. 16 via DIP switch
Data Rate: 5kbps
TX Power: 10mW
RX Sensivitiy: -120dBm
Conforms to: Australian/New Zealand AS/NZS 4268:2003
Overview
SMX2 is small multi-channel UHF transceiver operating on 433.05MHz-434.79MHz European licence exempt band. SMX2 offers a fast-route to custom frequency on any UHF band from 431MHz to 436MHz with 25kHz channel spacing.
Features
Conforms to ETSI EN 300 220-3 and EN 301 489-3
High performance double superhet, 128 channel PLL synthesizer
Data rates up to 5 kbps for standard module
Usable range over 500m
Fully screened
Feature-rich interface (RSSI, analogue and digital baseband)
Incorporates a 1200baud dumb modem
Re-programmable via RS232 interface
Low power requirements
Applications
Handheld terminals
Heavy vehicle/machine remote controls
EPOS equipment, barcode scanners
Data loggers
Industrial telemetry and telecommand
In-building environmental monitoring and control
High-end security and fire alarms
Vehicle data up/download