LMR1-173-5 : Low Cost VHF Narrowband FM Multi-Channel Radio Receiver, 173MHz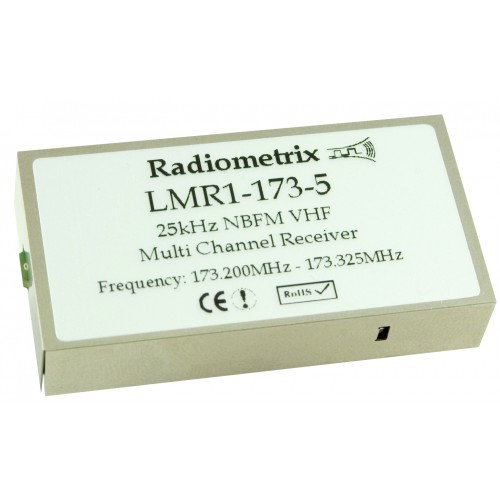 ---
---
Price:
$119.24
Ex Tax: $108.40
Technical Summary
Operating frequency:
44-146MHz Amateur Radio
150.825-152.450MHz Australian LIPD Band
151.820-154.600MHz US Multi-Use Radio Service (MURS) band
156.525MHz Global Maritime Distress and Safety System
173.200 - 173.325MHz UK Telemetry, Telecommand, Fixed Alarm band
173.20375-173.39625MHz US FCC Part 90.238 Telemetry
Other custom variants from 130 - 180MHz on any 2MHz band
4 UK allocation channels (32 maximum)
Transmit power: +10dBm (10mW) nominal @ 3.1V (Adjustable 1 - 25mW)
+20dBm (100mW) nominal @ 4.1V (Adjustable 25 - 100mW)
Supply range: 3.1 – 15V (@10mW) transmitter and receiver
Current consumption: 34mA @ 10mW, 90mA @ 100mW (transmit) and 20mA (receive)
Data bit rate: 5kbps max. (Standard module)
Receiver sensitivity: -118dBm (for 12 dB SINAD)
LMR1-173-5 : Low Cost VHF Narrowband FM Multi-Channel Radio Receiver, 173MHz
LMT1-173-5 Recevier
VHF Narrowband Multichannel FM Radio Receiver
Frequency: 173MHz
Data Rate: 5kbps
RX Sensitivity: -118dBm
Country: NZ
Overview
The LMT1 transmitter and LMR1 receiver modules offer a multi channel, low power, and reliable VHF data link. This makes the LMT1/LMR1 pair ideally suited to those low power applications where existing wideband modules have insufficient range, or where low cost multi-channel operation is needed without compromising on RF specification or regulatory requirement.
Features
Conforms to EN 300 220-3 and EN 301 489-3
PLL synthesizer with TCXO
Data rates up to 5 kbps for standard module
Usable range over 1km
Fully screened. Low profile
Re-programmable via RS232 interface
Low power requirements
Applications
Handheld terminals
EPOS equipment, barcode scanners
Data loggers
Industrial telemetry and telecommand
In-building environmental monitoring and control
High-end security and fire alarms
DGPS systems
Vehicle data up/download
Heavy vehicle/machinery controls
MURS band