RPM2A-433-17 : UHF OEM Radio Packet Modem. 433.920MHz, 10mW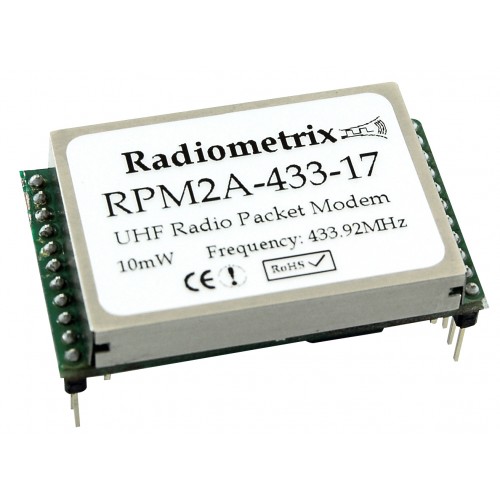 ---
---
Price:
$114.84
Ex Tax: $104.40
RPM2A-433-17 : UHF OEM Radio Packet Modem. 433.920MHz, 10mW
RPM2A-433.920-17 UHF Radio Packet Modem
UHF Wideband FM Radio Packet Transceiver
Frequency: 433.920MHz
Data Rate: 17kbps
TX Power: 10mW
RX Sensivitiy: -100dBm
Country: AUS
Overview
The UHF Radio Packet Modem (RPM2A) is a low cost intelligent radio packet modem that enables a two way radio network/link to be simply implemented between a number of digital devices. The RPM2A uses addressable data packets with error checking, packet acknowledgements and retransmissions to achieve a reliable transparent wireless data link. Built for ease of use and rapid installation, the serial interface ensures direct connection to microprocessors or to RS232 port via RS232 driver while remote configuration enables post installation setup of the modem.
Features
Addressable point-to-point
Point-to-Multipoint and broadcast modes
Inverted RS232 interface at 5V or 3VCMOS level
DTE speed 600-115200bps
Overall throughput: 17kbps with ACK
28kbps without ACK
Single 5V or 3V supply
15mA during data streaming at maximum rate
Flow control – Hardware (CTS), None0
Available on 433.92MHz or 434.42MHz
Usable range up to 300m
Built-in command line configuration
Built-in RF link diagnostics
Remote over-air unit configuration
Low operating current, Auto standby mode
Conforms to European ETSI EN 300 220-3 and EN 301 489-3
Dimensions: 39mm X 23mm X 10mm
Applications
Telemetry and telecontrol
EPOS equipment, barcode scanners, belt clip printers, stock control, job allocation
Remote data acquisition system, data loggers
In-building, environmental monitoring and control systems
High-end security and alarm signalling
Automated Monitoring and Control Systems
Fleet management, vehicle data acquisition