RMX232-151.600 : Radio Modem, RS232, VHF, 151.600MHz @ 100mW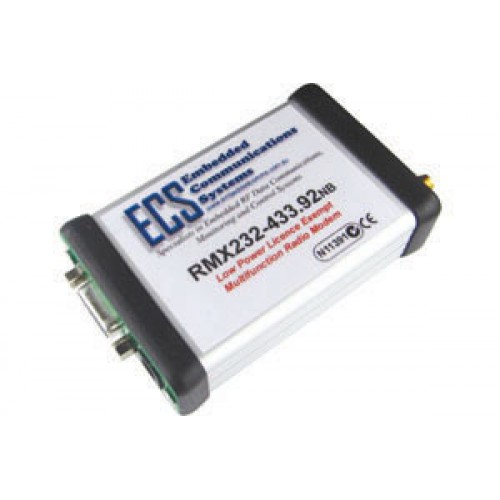 ---
---
Price:
$319.00
Ex Tax: $290.00
Radio Specifications
Radio approval EN 300-220-1, ETS 300-683, AS4268.2
Australian C-Tick Approval
Transmit power:
151.275MHz - 100mW (AUS)
151.300MHz - 100mW (AUS)
151.600MHz - 100mW (AUS)
173.225MHz - 100mW (NZ)
173.250MHz - 100mW (NZ)
173.250MHz - 10mW (EU)
Receiver sensitivity -120dB for 1ppm BER (UHF)
Aerial: SMA female connector
Operating Specifications
Operating voltage of 7 to 15VDC
Average current of 36mA (data streaming).
Standby current of 15mA.
Shutdown current of 440uA, for long-term battery operation (DTR activated).
Physical: Width 62mm, Depth 24mm, Height 103mm. (excludes antenna)
Operating temperature of 0 to 60 degrees C
Part Number
RMX232-151.275 (100mW AUS)
RMX232-151.300 (100mW AUS)
RMX232-151.600 (100mW AUS)
RMX232-173.225 (100mW NZ)
RMX232-173.250 (100mW NZ)
RMX232-173.250 (10mW EU)
RMX232-151.600 : Radio Modem, RS232, VHF, 151.600MHz @ 100mW
RMX232-151.600 Serial Radio Modem
VHF Narrowband FM Radio Modem
Frequency: 151.600MHz
Overair Data Rate: 2400bps
DTE Serial Speed: 115200bps
TX Power: 100mW
RX Sensivitiy: -120dBm
Country: AUS
Overview
The RMX232 Radio Modem provides a reliable wireless communications link between two serial devices. The RMX232 can be used in a variety of data communications applications that require a simple to use invisible data link.
The RMX232 permits point-to-point error free transfers upto 2400bps half duplex.
Repeater mode enables the Radio Modem to extend the effective operating range of a point-to-point link by forwarding data packets to a single repeater hops.
The Radio Modem uses unit & site addressed data packets with error checking and packet acknowledgements to achieve a well managed highly reliable wireless link. The on-air data rate is selectable from 600 to 2400 bps, thus improving network access for multiple point-to-point links within close proximity.
Configure the RMX232 for point-to-multipoint broadcast mode and combine with any number of intelligent host computers/ controllers to implement very large networks.
The RMX232 Radio Modem supports a range of built-in diagnostic functions that can be used for network interrogation, network problem finding and radio site & range testing.
Features
Addressable Point-to-Point, Point-to-Multipoint and Broadcast Multidrop
Licence exempt operation
Serial protocol. 8 data/1 stop/ no parity
DTE Speed selectable 600-115200bps
Air data speed selectable 600-2400bps (VHF)
DTE flow control - hardware/software/none
96 byte serial receive/transmit buffer
On-air data encryption and 100% code balancing.
Increased range with external antenna
Simple built-in command line configuration
Built-in RF link diagnostics
Remote over-air unit configuration
Modem status indicators
Low operating current. Auto standby mode
Low profile extruded aluminium enclosure.
7-15V DC power supply.